#13877923 Daring-Devil wrote:

Master Enforcer

As Enforcer made his way past the wall of demons in his way he saw the large fire blast from Gemini go off, and even though some of the taller demons were still standing Enforcer would already be backing off toward them as he fired back at the demons chasing him.

Daring Devil

Shut up, shut up! would be echoing inside Devil's head as he tried to ignore what No One was saying. Devil had only now started to see Jack as the weird uncle of On Call, and he didin't want to think he had died.

But as Devil's kick didin't have the impact he expected, Devil coulden't help his surprise, specially once the man saw the rust extending over his arm. But once Devil got his legs swooped out from under him a mix of instincts and his powers would give the man enough time to use his arms to jump away.

But then something didin't go like Devil thought it was, as No One had become distracted with-- Wait was that his body!? Devil would think as he saw a flash of that white suit, but he didin't have much time. And so, Devil would opt to do something to make the Taylors proud, as he would begin to literally flex the joints of his suit clear of rust.

After that was done Devil would try to take advantage of No One's distraction as he dashed foward and attempted to hit a roundhouse kick at the back of Jack's head.

Tungsten Tornado

As his attack worked Tungsten wouldn't even think as he shouted "ALEASTOR! GRAB HIM!" and charged toward the body, only to be covered by that mist shortly after.

... Even if he had noticed the mist it would have been for nought as he didin't expect the mystical effects from it. But inside the fog Tungsten would all but succumb to the pain, as it would take away his focus he would drop to the mud holding his chest and grunting. But even though the metallic man would be unable to use his powers he would still try to hoist himself on the lance and stumble to No One's body, he wasen't about to forget all of the pain he suffered because of that thing just because of a little mystical fog.
Black-Jack (No One):"Oh Howard. You were so close."
The snap reaction of the possessed Black-Jack made it just in time to capture the kick in motion right ankle of his boot.
Black-Jack (No One):"You'll easily walk this off Howard. But your friend? Oh he's mine."
With a mere blink of an eye he twisted that grip just enough to make a muscle tendon at the ankle make a disturbing 'snap' noise. Like a piece of celery being crunched. And god was it going to be painful.
No One knew already what they were planning to do. It was a tad obvious with all of the heroes and the metal warriors running right for his path.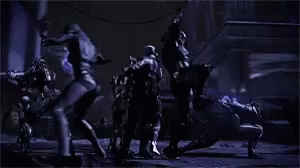 Without wasting any more time, he hurried right along to his body that was only a mere 100 feet away. It was almost as if time itself was slowing down all around them at once. Which in truth was actually the case when he manipulated reality again to further stall the heroes from getting to their goal of racing after his body.
Black-Jack (No One):"This body has served its purpose. Time to return home."
With a blink of his eyes, Jack's body fell hard into the dried mud. The incantation scribbling on his head stopped glowing. The real body of No One instantly began to rise out of the dirt he was laying upon.
All the heroes who felt like they were seconds away from grabbing him were still in that slowing of time effect. But each one could see what he was doing when reaching inside of his breast pocket; a card with the symbol of a Throne.
(All characters will be stuck in slow mo for just 1 turn)